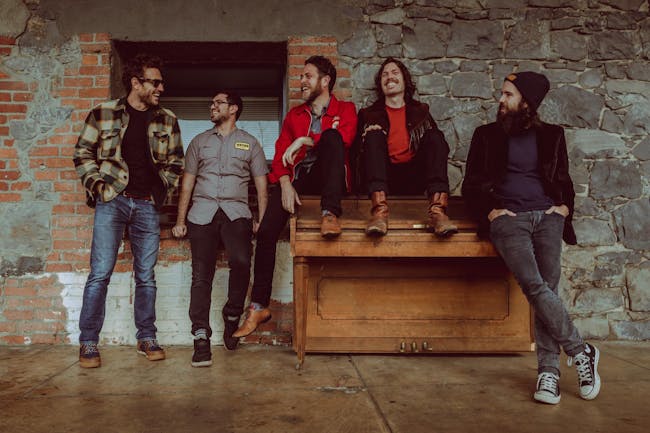 The Brothers Comatose w/ Goodnight, Texas at Mercy Lounge
Completed COVID-19 vaccine card OR negative PCR/rapid test result required for entry. See here for additional info.
STANDING ROOM ONLY - PLEASE EMAIL info@mercylounge.com FOR ADA ACCOMMODATIONS
VALID GOV'T ISSUED PHOTO ID REQUIRED - NO EXCEPTIONS
Whether traveling to gigs on horseback or by tour bus, Americana mavens The Brothers Comatose forge their own path with raucous West Coast renderings of traditional bluegrass, country and rock 'n' roll music. The five-piece string band is anything but a traditional acoustic outfit with their fierce musicianship and rowdy, rock concert-like shows.
The Brothers Comatose is comprised of brothers Ben Morrison (guitar, vocals) and Alex Morrison (banjo, vocals), Scott Padden (bass, vocals), Philip Brezina (violin), and Greg Fleischut (mandolin). When they're not headlining The Fillmore for a sold-out show or appearing at Hardly Strictly Bluegrass Festival, the band is out on the road performing across America, Canada, Australia, and hosting their very own music festival, Comatopia, in the Sierra foothills.
April of this year is finding the band touring Latvia and Lithuania as cultural ambassadors for American Music Abroad, which is run by the US State Department with the goal of sending American artists all over the world as a cultural exchange program. The band toured China in 2018 under the same program.
The remainder of 2019 will see the Brothers Comatose hitting the studio to record on their fifth studio album to be released on AntiFragile Records.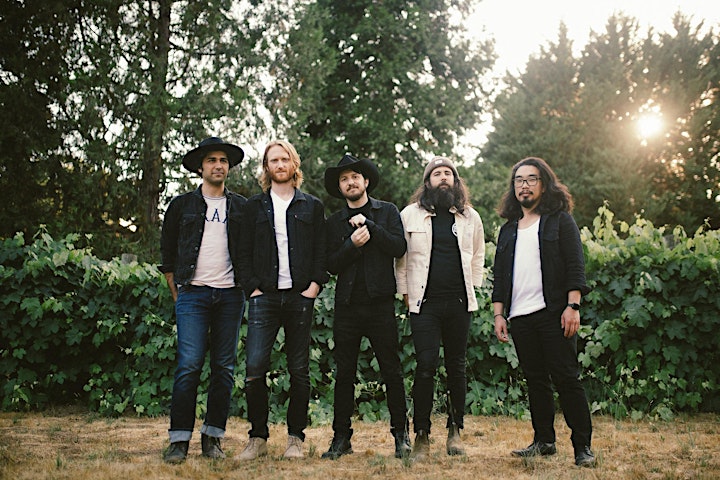 Conventional wisdom says the two frontmen of a band shouldn't live on opposite sides of the United States, but that's never seemed to deter Avi Vinocur and Patrick Dyer Wolf.

Goodnight, Texas is a band whose strength lies in unexpected sweet spots. Drawing their name from Pat and Avi's onetime geographic midpoint (the real town of Goodnight in the State of Texas, a tiny hamlet east of Amarillo directly betwixt San Francisco, CA and Chapel Hill, NC), the band also exists at the center of its songwriters' contrasting styles — via a 1913 Gibson A mandolin and a 2015 Danelectro, at the crossroads of folk and blues and rock 'n' roll, in a place where dry wit and dark truths meet hope and utmost sincerity.

In March of 2020, the band released its first live album: "Live in Seattle, Just Before The Global Pandemic." Jonathan Kirchner recorded, mixed and mastered a weekend of October performances at Tractor Tavern that featured a newly expanded five-man lineup. GN, TX rookie Chris Sugiura brings precision and flair to the bass (and strong hair); grizzled veteran and former GN, TX bassist Adam Nash slides over to lead guitar and pedal steel where he can truly dazzle; extra grizzled veteran and former GN, TX bassist Scott Griffin Padden holds steady behind the kit, beating the hell out of the available objects with aplomb. In a strange and often dark time, here is a totem of life, and a great example of the raucousness and dynamics of the band's live performance.

Also in March 2020, as the world confronted a new indoor reality, two long minutes of the GN,TX mainstay "The Railroad" found themselves in the intro sequence of the first episode of Netflix's "Tiger King," which shattered streaming records with 34 million views in 10 days.

On September 10th, 2021, the band's unique version of Metallica's 'Of Wolf and Man' will be featured as part of the 30th anniversary celebration of The Black Album on the 'The Metallica Blacklist'. Avi from Goodnight, Texas occasionally plays and sings with Metallica when they perform acoustic.

Venue Information:
Mercy Lounge
1 Cannery Row

Nashville, TN, 37203