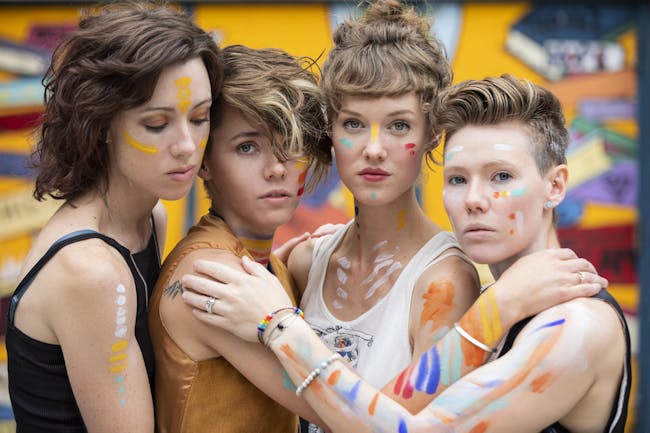 SHEL: Wild Child EP Release Tour w/ Emma Charles at the High Watt
STANDING ROOM ONLY - PLEASE EMAIL info@mercylounge.com FOR ADA ACCOMMODATIONS
VALID GOV'T ISSUED PHOTO ID REQUIRED - NO EXCEPTIONS
When the gatekeepers of the music world tried to contain the superpowers of four creative sisters - walls fell. The rubble (made mostly of 'writer's block'), became the ground floor of a new start. Tossing away the assembly-line process and embracing the freedom of the unknown, the sisters reconnected with their intuition and one another in a force of genetic creativity bent on healing.
"There's a code of love that preserves our purpose." Says Eva, lead singer and mandolinist of SHEL. You can feel this code in the colorful sound and imagery of the band's newest collection, starting with Rainbow; a soft, but powerful anthem inviting us to embrace unity in the midst of fear. "I had a vision of women in India when I started writing Rainbow, but I had no idea it would lead me to Vrindavan, or what it would mean to hold the women there in my arms. Their strength and hope changed me and made me realize the necessity of family and community."
Rainbow became the symbol of a new era for SHEL. The band cleared the fields, let the ground rest and waited to see what would grow naturally. In the time spent creating as sisters instead of bandmates, a deep desire for connection through honest expression blossomed. "There's a joy and fulfillment that we share as creatives when we take responsibility for our dreams." Says Hannah, pianist and oldest sister of the band. "We want to bring healing to the world. You can only do that if your collaboration is healthy."
With the sisterhood front and center, the scenes of a full-length album began to unfold with exciting depth and vividness, but something else was happening. "These incredibly joyful songs started to spring up." Recalls Eva. "We're very grateful we had an opportunity to capture them with Tim Myers and Joey Verskotzi, but none of us saw an EP like Wild Child coming. We were processing some pretty heavy and traumatic life events in writing the album, and then we were given this pause to celebrate and share the joy of our journey."
There is a lot for the band to celebrate. With a renewed sense of family and purpose as well as restored creative autonomy, the sisters have experienced a steady recovery from depression. "So many people suffer from a sense of despair today, it's like an epidemic." Says Sarah, the violinist of the band. "In a quest for answers to our own depression, we started having these emotional breakthroughs that turned into mantras, and then into songs for Wild Child."
Songs about liberation from fear, embracing uniqueness and celebrating it, about the inner wild that calls us to climb trees and touch stars, to unite in love amidst the storm, to follow the unknown road, and finally, to come home to the warm embrace of family.
"Depression can be very complex. Mine was a result of breaking that code of love I was talking about earlier." Says Eva. "During that time, my sisters were very gracious with me. They helped me see that putting family first was a choice to heal."
One thing that becomes clear when you talk to the sisters of SHEL about their journey as a band and a family is their belief in grace as a foundation for meaningful relationship, especially in regards to one another. "Healing is a lifestyle. Accepting and trying to understand the emotions and beliefs that shape each heart can help you understand yourself." Says Liza, the youngest sister, the drummer and perhaps the most understanding member of all. "We look out for each other, we love each other, and we will always want the best for one another. Loyalty and passion keep this sisterhood together."
Perhaps 'Family Band' is the wrong way to describe SHEL. Family comes close, but sisterhood rings true.
SHEL's versatile sound has lead to collaborations with producer Brent Maher (Ike and Tina Turner, The Judds) as well as visionary sound guru Dave Stewart (The Eurythmics). The sister group is now excited to release their first single in collaboration with Joey Verskotzi.
After extensive touring across the U.S. and Europe, sharing the stage with world-renowned orchestras, and supporting Amos Lee, the sisters have taken some time off the road to write and record, as well as score Facebook's hit television series Queen America, starring Catherine Zeta Jones.
SHEL's music can be heard in numerous films, TV shows, and commercials, including The Best of Me, The Fourth Phase, Depth Perception, Charged, the trailer for Women In Sports, Shameless (Showtime), The Fosters (Freeform), Riverdale (Netflix), Search Party (TBS), as well as commercials for Chevy, Toys R' Us, Panadol, Splenda, and Glade.
Rainbow is the first single from SHEL's upcoming EP, Wild Child produced with Joey Verskotzi and Tim Myers (previously of OneRepublic). SHEL's Eva Holbrook traveled to India to make the music video for Rainbow with a focus on raising much-needed funds and awareness for some of the world's most vulnerable women. The sisters hope their partnership with locally run outreach Hope Springz will make a lasting impact, helping restore color and dignity to widows in Vrindavan, India.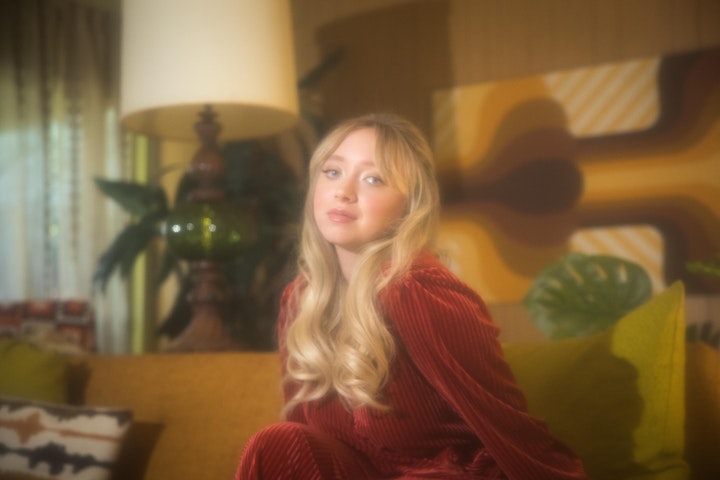 22 yo folk-pop savant Emma Charles is able to mix "effortlessly beautiful vocals" (American Songwriter Magazine) that "flutter upwards serenely through the loneliness and darkness like a beam of radiant light" (LA Weekly) with "savvy lyricism and intuitive musicianship offering layers not always seen in contemporary mainstream music" (popMATTERS). Emma was recently chosen as a 2020 BILLBOARD "Breakout Emerging Artist" (airdate of BILLBOARD studio interview TBD) as well as a "What's Next" artist by the world's largest music compilation brand NOW, That's What I Call Music joining previous What's Next artists Billie Eilish, Shawn Mendes among others. Introspective, relatable and immensely talented, Emma is poised to be a significant presence on today's music scene. Hailing from the artistic enclave Westport, Ct, in 2019 Emma graduated with honors from the prestigious Berklee College of Music and immediately began performing nationally headlining and opening for singer-songwriters Howie Day and Tyler Hilton. Now, LA based, Emma is writing, recording and continuing to perform. She returns east regularly to continue her long standing collaboration with Uber-producer Doug Schadt (Maggie Rogers, SHAED, Ashe). Says Doug "It's rare as a producer to come across an artist who is completely open to experimentation, while maintaining their vision of what a song is supposed to be. I think the results speak for themselves. Working on Emma's latest material with her was an absolute joy, and I can't wait for what's next." Emma's recent releases have been streamed collectively well over 100,000 times and she has new music that will be released throughout 2020.

Venue Information:
The High Watt
1 Cannery Row
Nashville, TN, 37203