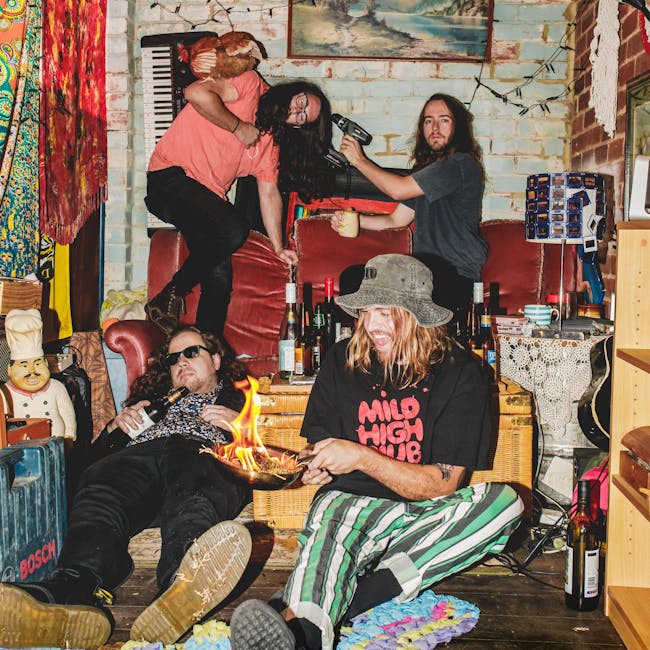 Psychedelic Porn Crumpets w/ Meatbodies at Mercy Lounge
When you think of a typical English fete, you think of coconut shies and Punch & Judy puppet shows, children tearing around laughing and little old ladies selling homemade hams with smudged labels. The idyllic picture hardly seems like something that would inspire the concept of an album by an Australian psych rock band, but then Perth's Psychedelic Porn Crumpets have always been hard ones to pin down.
On their third album, 'And Now For The Whatchamacallit', the four-piece take that very British image and reimagine a 1930s small town fair for the future, twisting the wholesome giddiness and mirth of such events into a madcap adventure that feels like a ride you don't want to end. It was inspired by a documentary about Woburn Sands, the English town frontman Jack McEwan grew up in. "It felt like a homage back to home," explains Jack. "That idea felt like I could write about these old times but give it a twist of the future, like what people back then would think it would be like."
With the theme emerging a few songs into the writing of the record, the band decided to embrace the "nostalgic happiness" associated with it and write "the most fun things we could think of". "Fun" is perhaps an understatement when it comes to describing 'And Now For The Whatchamacallit', which sprints through thunderous, wailing fuzzy rock ('When In Rome'), sitar-led lysergic voyages ('Native Tongue'), and stomping psych-pop ('Bill's Mandolin'). The latter was written in honour of a mandolin Jack was given on the band's last UK tour, which became an inanimate observer of all sorts of capers, the likes of which informed the record's songwriting. Tour lends itself to creating the kind of experiences you can fill an album's worth of stories with, according to Jack. With nights not able to get properly started until after the show's finished, you're more likely to meet "the quirkiest people or the ones who are still awake or buzzing, or on magic potions of sorts."
Recorded largely in Jack's bedroom (with some parts recorded at Perth's Tone City Studios), 'And Now For The Whatchamacallit' arrives as a more concise, thought out missive than its predecessors, 2016's 'High Visceral Pt 1' and 2017's '…Pt 2'. "I wanted to stray away from the 10-minute jams when writing the songs on '…Whatchamacallit'," says Jack, explaining that this record taught him he likes "writing shimmery songs."
The album starts with a call to keep the party going on the infectious 'Keen For Kick Ons'. "If you kick on in Australia, that's when you go out after and carry on drinking," Jack explains of the slang title, adding that it could be written about "every time we go to the pub." 'Social Candy', meanwhile, builds into howling psych as the frontman narrates the experience of "when you've taken too many fun tablets, you're absolutely fried, your brain can't handle it, and you're like, 'Why is that rabbit talking to me?'"
And then there's album closer 'Dezi's Adventure' with its plinky-plonky organ sounds, that's meant to feel like "the closing of the circus curtains". While 'And Now For The Whatchamacallit' largely takes you on a trip through nights out, its final song is more like a tour through Jack's own life - or at least his most recent years. "I transitioned from working on a building site to going three years down the track and travelling around the UK as a band," he explains. "It's a completely different world so 'Dezi's…' is almost that adventure and carrying on with tour. It sounds like me peering out of a window from a 20-year-old's perspective but seeing everything happening right now. Rather than a memory, it's a forward memory."
As well as tons of punchy songs that make you want to get on their level, the album is also home to some experimental instrumentals, like the heavenly 'Fields, Woods, Time' and the warped noodling of 'Digital Hunger'. Intended as transitionary tracks, they're placed at points of the record you wouldn't necessarily expect an interlude. "I wanted that element of wonder and what's gonna happen afterwards," Jack says. "You're intrigued to listen a bit more to see where it goes next."
After starting out as a project for Jack's uni course, the last four years have taken the band - completed by guitarist Luke Parish, drummer Danny Caddy, and bassist Luke Reynolds - on an unexpected but brilliant journey, winning over fans across the globe with their exuberant live show and inventive, unpredictable songwriting. Where Psychedelic Porn Crumpets themselves go next from here is anyone's guess.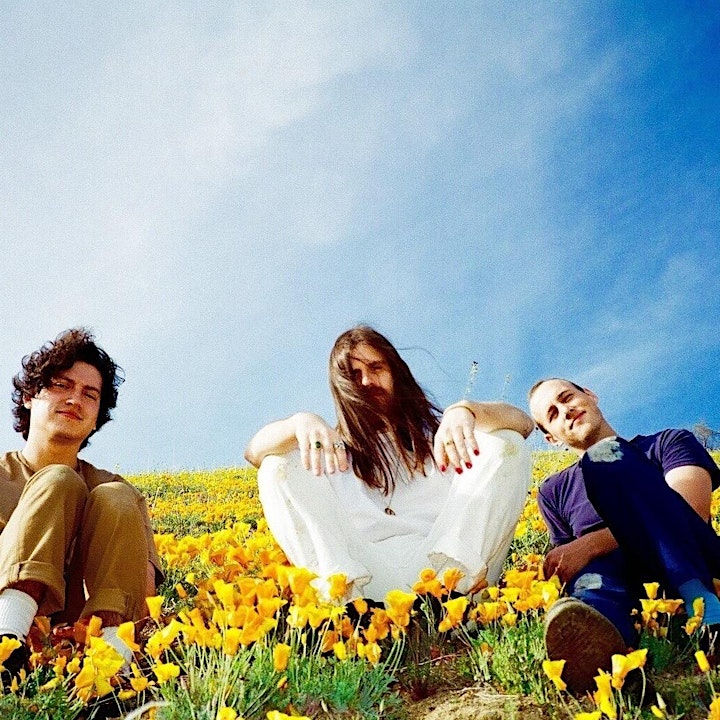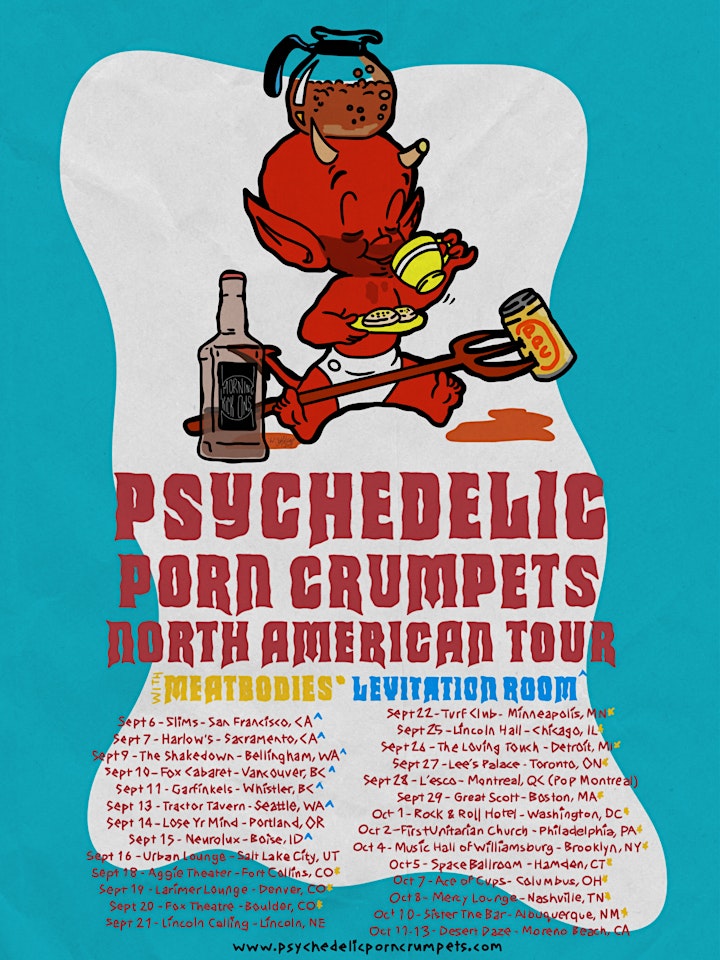 Venue Information:
Mercy Lounge
1 Cannery Row
Nashville, TN, 37203