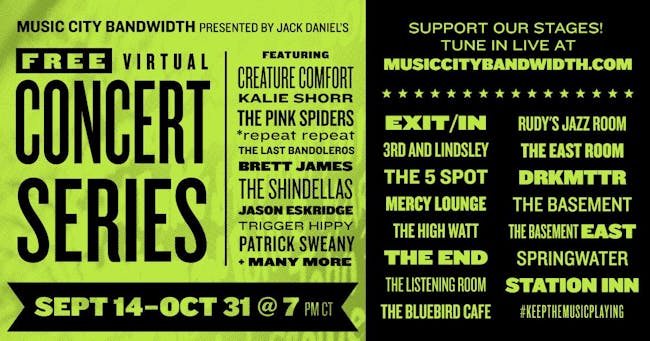 Music City Bandwidth: Free Live Stream
$0.00
Sales Ended
On musiccitybandwidth.com
Music City Bandwidth presented by Jack Daniels
Music City Bandwidth presented by Jack Daniel's hosts 30 concerts September 14-October 31 at 15 independent Nashville music venues, providing gigs for 120 Nashville-based musicians of diverse genres. Due to physical distancing and crowd size limitations mandated by the city's safety regulations, there will be no live audience. But everyone around the world can watch!
We're streaming the performances at www.musiccitybandwidth.com; come back each day at 7pm for a new show. While enjoying the show, please consider donating to Nashville's independent music venues. Your generous donations will go to the venues featured in this Music City Bandwidth series. You may not be able to be there in person, but you can still show your love for Music City's best. Thank you!
September 14: Patrick Sweany @ The Basement
September 15: Joy Oladokun @ The High Watt
September 16: ACM Awards
September 17: Kalie Shorr, AJ Kross, and Candi Carpenter in the round @ The Listening Room Cafe
September 18: *repeat repeat @ 3rd & Lindsley
September 19: Grand Ole Opry
September 20: Marshall Chapman, Tommy Womack, and Will Kimbrough @ Springwater Supper Club & Lounge
September 21: Giovanni Rodriguez & 12 Manos @ Rudy's Jazz Room
September 22: Jed Clark Band @ Station Inn
September 23: Creature Comfort @ The East Room
September 24: Los Colognes @ The Basement East
September 25: Andrew Combs @ The High Watt
September 26: Grand Ole Opry
September 27: Jason Eskridge @ The 5 Spot
September 28: Trigger Hippy @ The Basement
September 29: Brett James, Chris DeStefano, and Kyndal Inskeep @ The Bluebird Cafe
September 30: Wooten Brothers @ Rudy's Jazz Room
Stay tuned for the October lineup and schedule!
Venue Information: