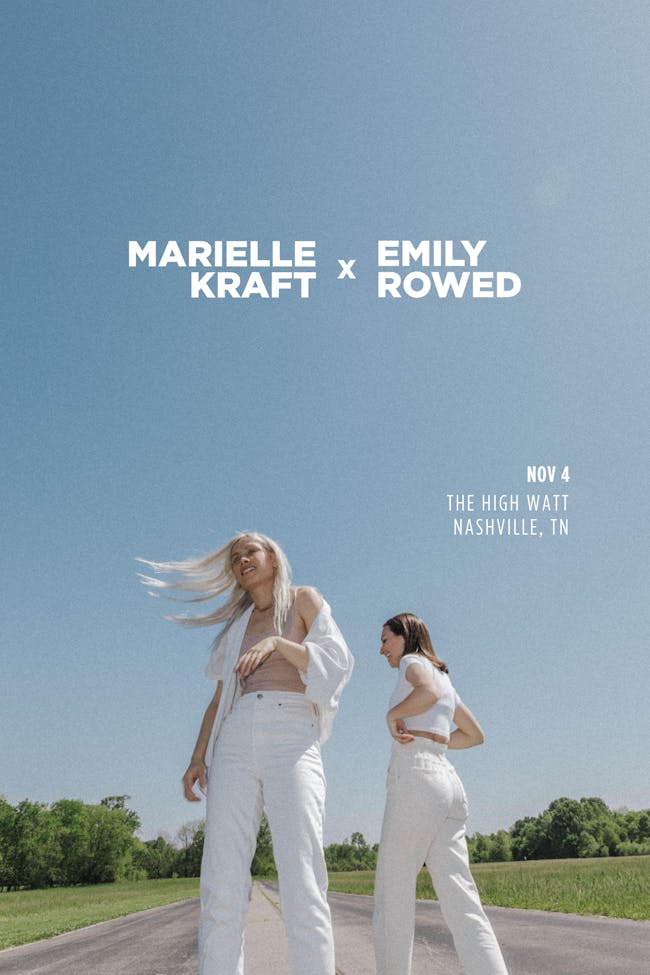 Marielle Kraft & Emily Rowed w/ Caroline Culver at the High Watt
Completed COVID-19 vaccine card OR negative PCR/rapid test result required for entry. See here for additional info.
STANDING ROOM ONLY - PLEASE EMAIL info@mercylounge.com FOR ADA ACCOMMODATIONS
VALID GOV'T ISSUED PHOTO ID REQUIRED - NO EXCEPTIONS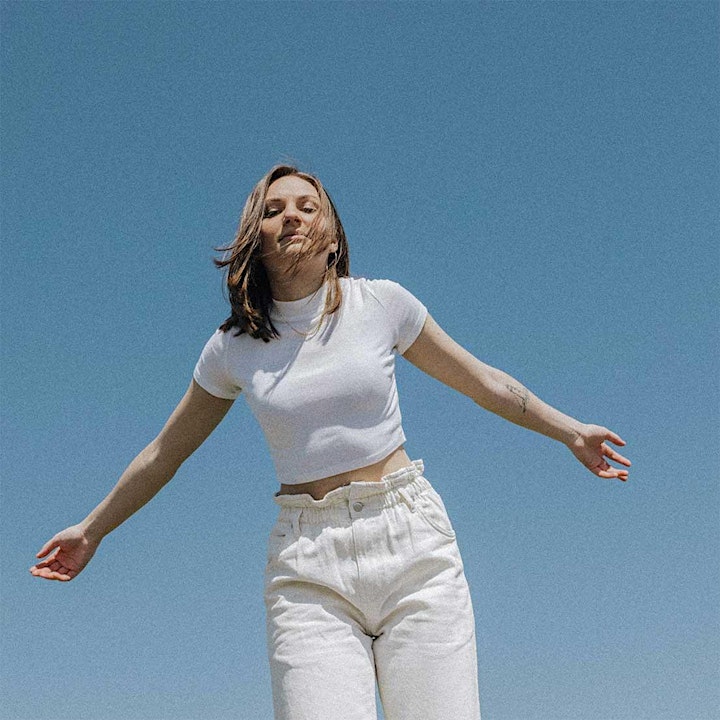 Marielle Kraft
When you hear Marielle Kraft's music or experience her candid live shows, you feel as though you already know her. The Nashville-based indie pop singer/songwriter, originally from Rhode Island, displays craftsmanship beyond her years, evident through her use of salient detail, raw emotion, and poignant word choice to describe moments "exactly as they feel."
In spring 2018, she was crowned Grand Champion of the Mid-Atlantic Singer-Songwriter Competition, and the following June she delivered a Tedx Talk at Firefly 2018, discussing the importance of honesty rooted in her songwriting process.
Marielle Kraft's debut studio EP, "The Deep End" officially released on July 12th, 2019, is described by The Music Mermaid as "song after song of mini pop addictions." In February 2020, Marielle Kraft co-released an "anthemic" and "heart-filled" single with Joshua Howard entitled "In It Together", which quickly gained traction across platforms.
Her October 23rd single, "Portland," breathtakingly captures the moment we find ourselves in, and speaks volumes of the young artist's songwriting abilities.
Marielle Kraft has shared stages with names as big as Jon McLaughlin, Ava Max, and Betty Who. Her "winning personality," "genuine connection," and "gift for story telling" on stage have fueled the ever-growing crowds at each of her shows, with no signs of slowing down.
Without missing a beat, Marielle Kraft released back to back singles to kick off 2021, both of which found major traction on Tiktok before becoming fully studio produced releases. "Everyone But Me" (February 19th) and "We Were Never Friends" (March 24th) feature a more developed sound than seen from Marielle before, and have cultivated her biggest streaming debuts to date. With more new releases on the way, Kraft is on track for an even bigger 2021.
Since leaving her full-time teaching career to pursue a life committed to creating music, Marielle Kraft has promise to follow suit to artists like Julia Michaels and Maisie Peters as the young songwriter makes a growing impact in the indie pop scene.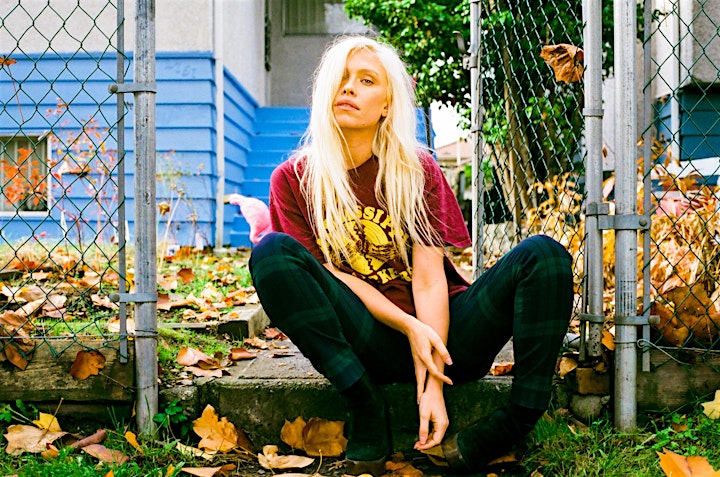 Emily Rowed
When Emily Rowed enrolled in acting school, she knew that she would go on to spend her life on stage. "I spent all my time at acting school writing songs when I probably should have been working on acting," the Vancouver-based musician admits with a laugh. The songwriter is quickly carving out an infectious musical style that blends the sparkle of electronic pop with the intimacy of deeply personal lyrics.
She initially gravitated towards a quiet, acoustic-centered sound, which she showcased on a self-released (and now sold-out) album in 2012. Her style took an unexpected turn in 2014, when dance superstar Tiësto selected her as the voice of his track "Say Something." Since signing with 604 Records, she has ventured into a new direction that utilizes a lush palette of beats and keyboards while still retaining the introspective storytelling of her folk roots.
It's Rowed's sense of vulnerability that allows her hook-filled pop songs to pack such an emotional punch. "I tend to write about 10-second moments. The sound is definitely bigger and busier, but the stories are still the same."
Emily released her debut EP 'Electric Heart' in July 2017 which saw Arrows peak at #9 in the Canadian Viral Chart on Spotify. Since the release of Electric Heart, her streams have amounted to over 1.5 million. Emily now pours her heart out over 10 emotion-filled tracks on her latest release, "April". April was written - "about the year [she] gave almost everything away and fell in love". "Pinball" was the first single off of her sophomore album. The video, directed by Adrien Vieni, was premiered on popular blog EarMilk. April is available now on all platforms via 604 Records.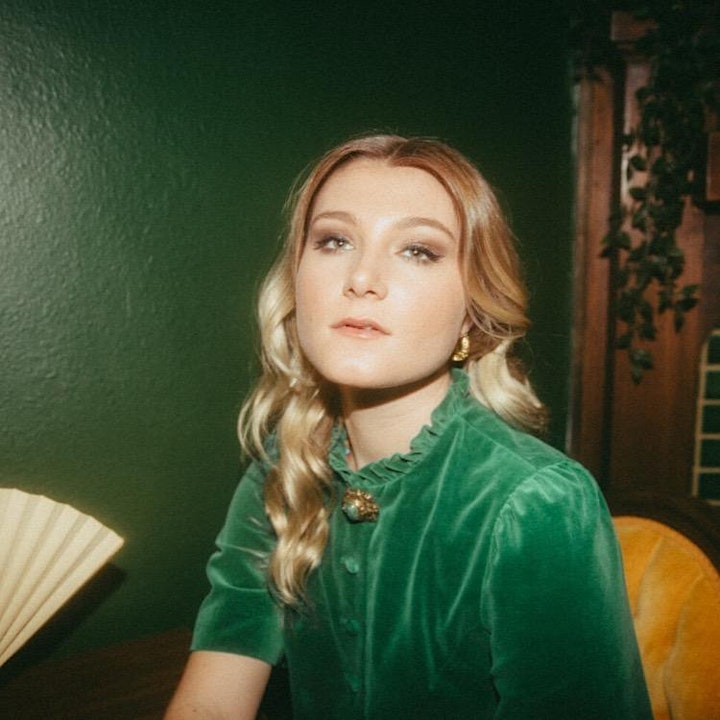 Caroline Culver creates indie-pop rock music with singer-songwriter roots sure to leave you wanting more. Caroline is Nashville-based but Atlanta-raised, using these two backgrounds to her advantage to create dreamy, heart wrenching music with vulnerability and edge that "shakes you to the core" (B-Sides and Badlands). Taking influence from artists like BANKS, The Cranberries and The National she "combines indie-pop instrumentals with emotive lyricism" (PASTE) creating a moody listen with an alt-rock flair. Her newest EP will release in Spring 2022, with singles releasing as soon as this Fall.

Venue Information:
The High Watt
1 Cannery Row

Nashville, TN, 37203