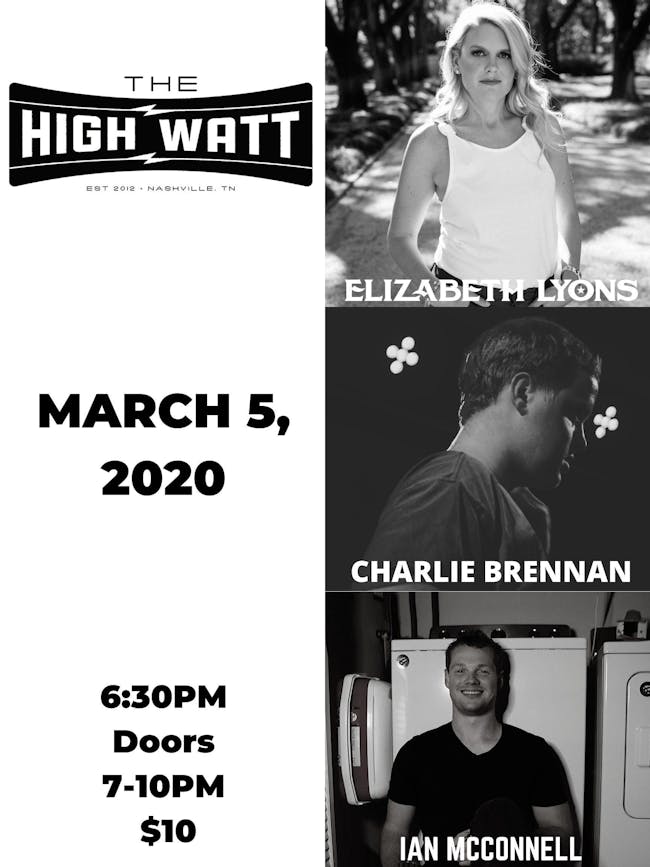 Ian McConnell, Charlie Brennan, & Elizabeth Lyons at the High Watt
STANDING ROOM ONLY - PLEASE EMAIL info@mercylounge.com FOR ADA ACCOMMODATIONS
VALID GOV'T ISSUED PHOTO ID REQUIRED - NO EXCEPTIONS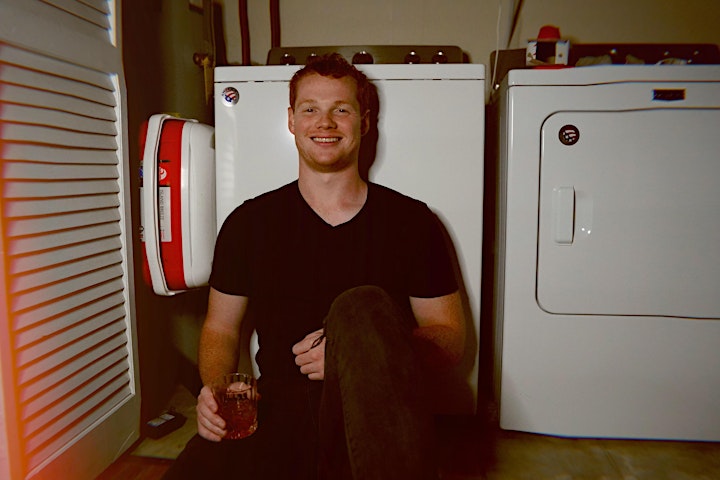 Ian is a singer, songwriter, performer, producer, and multi-instrumentalist based in Nashville, Tennessee. Born in Georgia and raised in Virginia, Ian started performing at the young age of four and was writing original music by twelve. He continued his musical endeavors at Furman University in Greenville, SC, where he received bachelor's degrees in cello and math, while continuing to write and perform across South Carolina. Since then, he has performed live more than 500 times alongside such artists as Abby Anderson, Lainey Wilson, Sawyer Brown, and SixForty1.
Ian began releasing original music in 2019 as part of his "Laundry Room Mixes," a series of monthly releases written, recorded, produced, mixed, and mastered by Ian in the laundry room of his Nashville residence. Since then, his music has been featured on major Spotify editorial playlists (Wild Country, PopCo, Nashville Stripped, Fresh Finds: Country, and New Music Nashville) and has amassed over one million all-platform streams. Ian's new series, "The Fire Sauce Tapes," continues the trend of monthly releases.
Ian McConnell has been described as "Keith Urban meets the Barenaked Ladies," "boy band country," and "the self-proclaimed funniest singer on Instagram." Drawing on influences such as Rascal Flatts, Eminem, Blink-182, Taylor Swift, and Billy Joel, Ian's music is characterized by quirky lyrics, infectious melodies, and high-energy performances hearkening back to both the pop punk and country styles of the 00's. A romantic through and through, Ian writes on such subjects as being in love, falling in love in the future, falling in love at the gym, falling in love with a girl in the car next to him at a stoplight, wishing he were still in love, the health benefits and detriments of love, and always holding a soft spot for previous love interests.
Ian is proficient on several instruments, including piano, cello, guitar, and bass, spending time as a session musician and hired band member in addition to his solo artistry.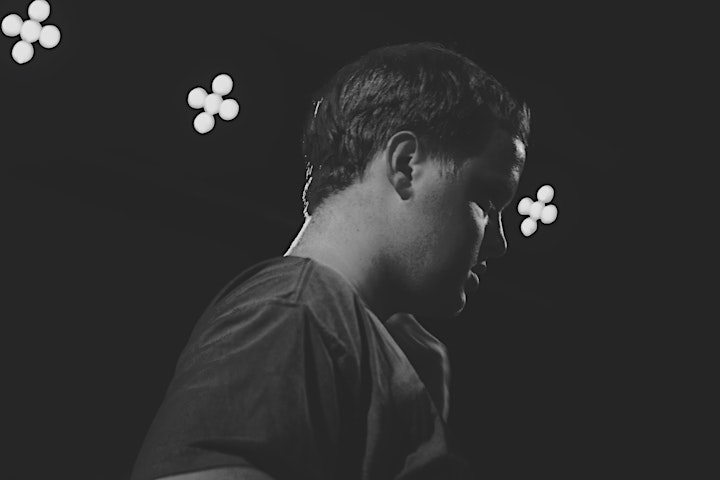 Charlie Brennan is a singer-songwriter from New York, NY. After studying guitar and teaching himself piano, Brennan began writing his own music at the age of 12. Charlie's musical catalogue ranges across a variety of genres and has earned him over 33 Million streams globally. His songs "Let Me Be" and "Cool" reached #11 and #39 on Spotify's Viral 50 Chart respectively, and his song "The Ocean" was featured in Pepsi's ad campaign for "World Emoji Day".
Charlie's music has been featured on a variety of Spotify-curated playlists, including New Music Friday and DancePOP. In September 2017, Charlie released "When We Were Young", a collaboration with Miller Guth. The track was featured on Trap Nation and has since reached over 2 Million Streams. His newest album "ODDS/ENDS" came out May 10th, 2019.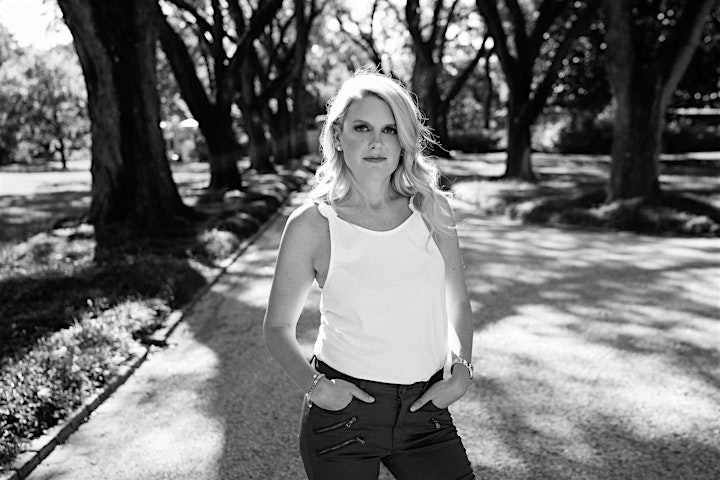 Since a young age, ELIZABETH LYONS love for music, her high energy, and commitment to getting things done is contagious. Elizabeth's learned her letters so she could play piano, joined church choir where she earned her first solo, auditioned for musical theatre til she made it to go on to be in 18 musicals. She encouraged her sisters, cousins and neighbors to be in the shows she put on in her backyard. At a young age promoting music and self expression.

Midwestern born and raised Elizabeth moved to Nashville at eighteen to intern at a music publishing company where she learned as much as she could about the music industry. Before she graduated from Vanderbilt University she released her first EP which topped the iTunes charts and became an Album All-Time Bestseller.

Through hustle and her can-do attitude, independent artist Elizabeth has a half a million plays on Spotify, sold over 100k downloads, 2 #1 & 2 #2 iTunes Country Music videos. Recognized by Macy's iHeart Rising Star Top 3, Country Music Association "Who New To Watch", Music Row Discovery Artist, SiriusXM The Highway On The Horizon, and CMT Pure and Discovery Artist, Elizabeth's proven track record has made her one of the next women of country to watch.

Elizabeth has booked her own shows opening for numerous country super stars including Florida Georgia Line, Blake Shelton, Luke Bryan, Sam Hunt and more. As well as playing all over the US including top festivals such as Summerfest, Lake Shake, Country Fest, and Country Jam, and more. Elizabeth honored our troops singing the national anthem at Soldiers Field, Lambeau Field, Wrigley Field, Fenway Park, Yankee Stadium and more.

Elizabeth decided to overcome the fear in rejecting societal pressure because she realized she will never influence the world by trying to be like it or others by conforming to their standard. Elizabeth's goal through her new soon to be released music is to help all to believe in themselves, not to let social media, pressures of the new world we live in, their environment hinder who they are and their true selves to become the best they can be.

Elizabeth found the strength to write music she feels passionate about from a place of honesty, vulnerability and her heart. Elizabeth has found her voice and become a strong independent artist by writing music that empowers, inspires, and believes.

Venue Information:
The High Watt
1 Cannery Row
Nashville, TN, 37203